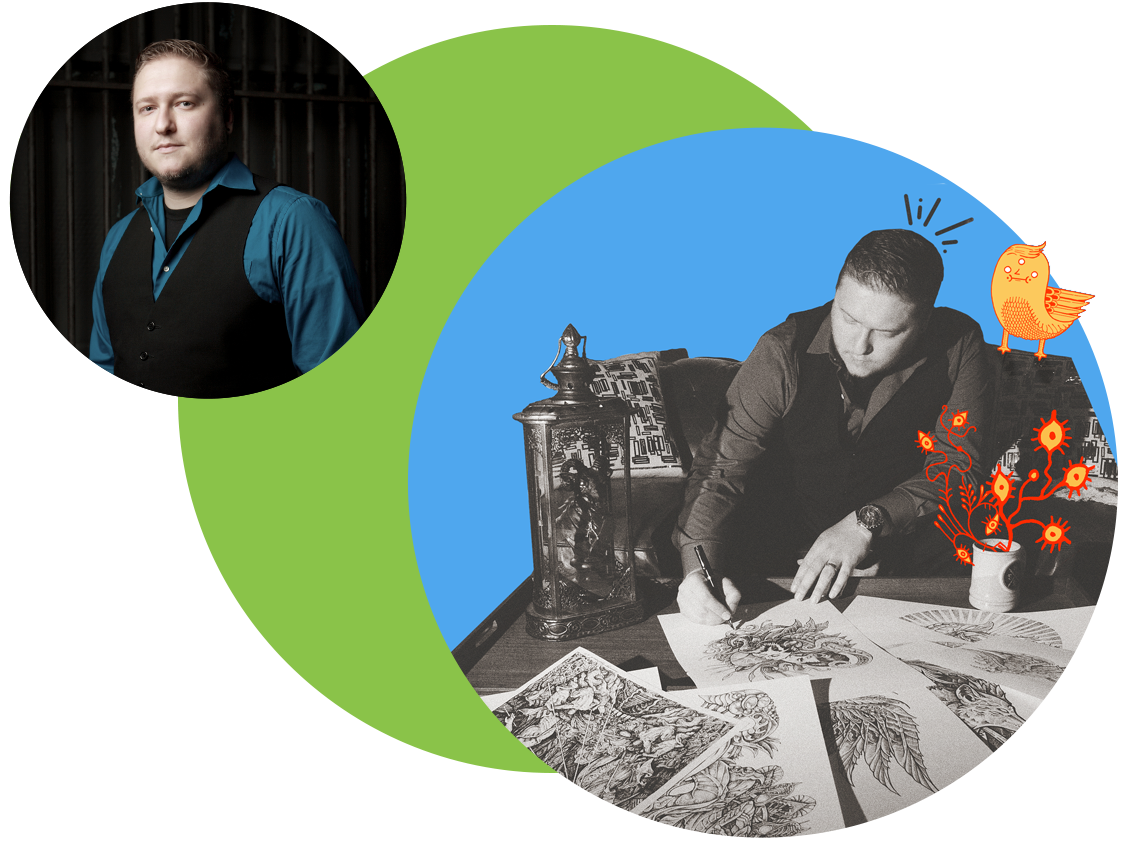 long story short
Russian native Illustrator and Graphic Designer who graduated from College For Creative Studies. Former Chief Marketing Officer for Omni Instruments and Art Director for HiveMind Studio. As a graphic designer and marketing officer, I amplify the voice of my clients with visual representation and data-driven market research implementation. As an entertainment illustrator, I create high-profile illustrations for various applications such as key art, covers, promotional materials, and editorial images. I also participate in nationwide fine art and niche pop-up exhibits with multiple publications and national and international creative, collaborative projects.
Aleks Shcherbakov
He/Him
ˌʃɛrbəˈkɔf – Sh•er•bá•kov – helpful audio
"Люди игнорируют дизайн, который игнорирует людей." — Химеро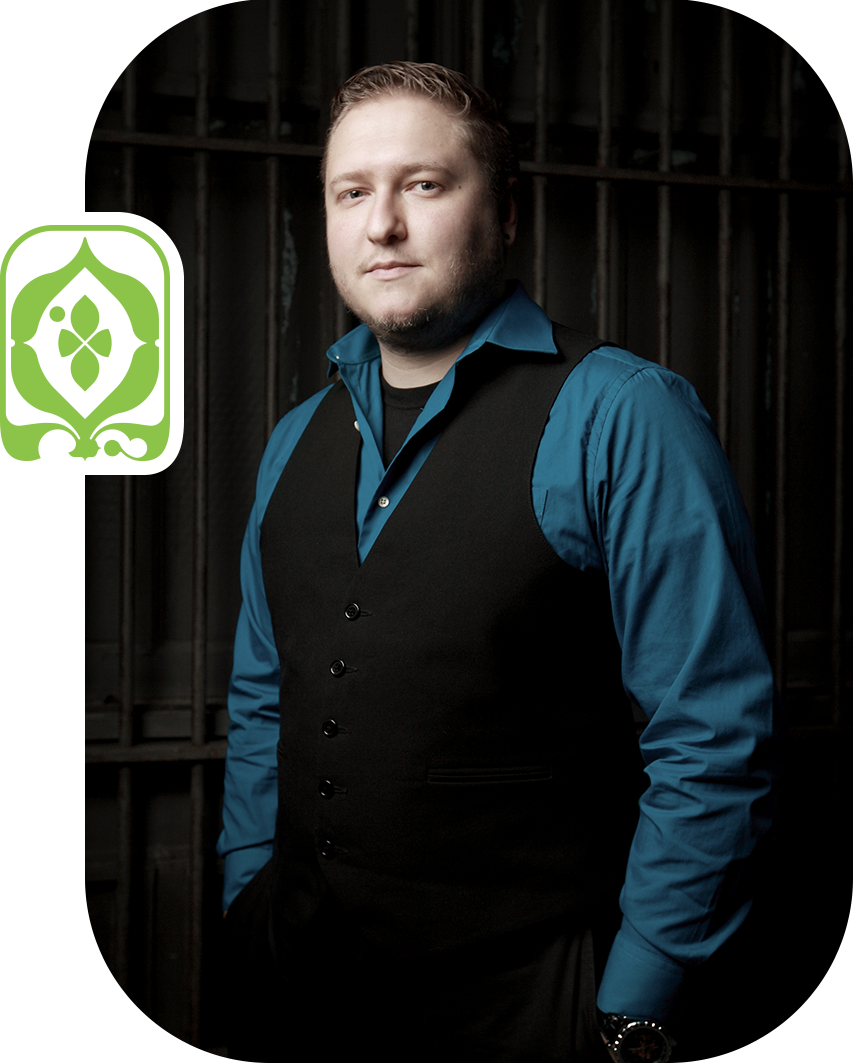 Clients Include
Chaosium inc | Live Nation Detroit | Out Of Step Publishing
Latinos Count | NeighborWorks America | United Way
Omni Instruments (North & South America) | DB Springer Real Estate Group
Blake's Hard Cider Co | Ink Addict Apparel | Zscheiplitz Manor (Germany)
Career Highlights
Used creative skills in art and design to communicate a story, message, or idea. Visually solving problems or meeting goals set up by the Art Director or Marketing team to achieve the maximum potential of the project. 
Graphic Design/ Marketing
Worked from commercial briefs (or developing them) to inform, persuade or entertain the client's intended audience, adjusting the mood and style of images accordingly.
Created pitch presentations that aided in securing large Department of Defence and Department of Energy Contracts for clients.
Developed comprehensive branding projects, including catalogs, brochures, and Logo Systems.
Executed the creation of web-optimized cross-platform social media assets for serialized marketing/messaging campaigns.
Provided all proactive client communication, including daily progress reports and handling issues that arose to ensure excellent client satisfaction.
Maintained management skills coupled with detail-oriented customer service skills, for an increased retention rate of clients.
Employed creative problem solving, planning, and brainstorming on difficult projects.
Prepared executive briefings on strategic marketing opportunities based on industry-specific market research and time-sensitive data acquisition reports.
Maintain awareness of current industry and technology trends.
Illustrator
Worked with the creative development art lead achieving the necessary final image quality.
Created high-profile illustrations for a variety of purposes including but not limited to key art, magazine covers, novel covers, marketing, promotional materials, and editorial spot illustrations.
Created illustrations and graphic design elements for cross-platform client campaigns, including TV, web, and print.
Developed apparel design elements for national brands.
Aided in amplifying the voice of the people served by various Divisions of Pathfinder Services and enhanced engagement with the thoughtfully designed print and digital media assets utilizing Person-Centered approach.
Developed and implemented signage and marketing instructions for all Divisions of Pathfinder Services highlighting unique market needs for each division.
Created and maintained files for all creative assets and resources needed for record-keeping, and reference, following all governmental oversight practices.

 

Created visual assets such as Annual Reports and info graphs which aided in various grant fulfillments securing existing and new funding opportunities.
Brought deep experience leading the creation and execution of innovative and brand-consistent digital and physical marketing campaigns which were recognized by American Advertising Federation AdHonors.
Worked closely and collaboratively with the Marketing Team and CEO on all creative projects.
Analyzed and evaluated the ROI of the marketing campaigns and implementation.
Evaluated and maintained production resources to enhance high productivity and ROI.
Worked simultaneously on 15+ projects with tight deadlines and budget restraints.
Conceptualizing: building brand elements, visual themes, and persuasive messages.
Branding: setting the visual tone; creating unique, aesthetic elements that can translate across different media as well as creating icons, logos, and vector art elements.
Print media: With branding guidelines in mind creating catalogs, flyers, brochures, direct mail pieces, promotional material, and packaging design.
Online Media: Execute promotional banners, design web page layouts, and email designs.
Core competencies: advertising, digital/social marketing, global marketing, events, sales promotion, sponsorships, experiential marketing, and brand building.
Provided strategy and execution of all visual communication released by the company in North and South American markets.

 

Developed areas such as sales management, product development, distribution channel management, marketing communications, including advertising and promotions, pricing, market research, and customer service.
Advanced SEO/SEM, database marketing, CRM, marketing automation to secure continued positive ROI and KPIs.
Expanded client retention by 25%
Increased e-commerce sales by 45%

 
Oversaw all aspects of the event. The overall budget, and schedules of assigned projects in collaboration with individual producers, account staff, creative and third-party vendors, security.
Provided a wide range of support during the event which includes basic and advanced secretary tasks, social management for performing artists, fast execution of any developed tasks that may come up during the event.
Put out all literal and metaphorical fires during the live event.
Full-service design studio specialized in aiding small businesses and nonprofits with branding and upgrading to Web 2.0
Oversaw all creative processes, developing merchandising, and corporate branding.

 

Social media strategy and execution
Overseeing all creative processes and designs created in the studio specialized in small business and public means.
Education
Affiliations and Memberships
American Advertising Federation – Fort Wayne
2020 – 2021 Board Member – Vice President of Ethics and Legislation
Awards
American Advertising Federation – Fort Wayne
2021 – Silver – Non-Profit Advertising Campaign: Pathfinder Services  "Our Mission Continues"
2020 – Silver – Sales Promotion: Independent Scents Packaging Design
2020 – Silver – Elements of Advertising: Independent Scents Logo Design
Selected Exhibitions
Damned Show Detroit (II, III, IV, V, VI, VII, X)
Corpus Illuminata (I, II)
INK – Detroit
Convenient & Economical (I, II, III, IV, V) Annual Solo Show
Dirty Show Detroit (XV, XVI, XVIII, XIX)
Import/Export – Jennifer Ford Gallery
Annual National Print Exhibition (XL)
Certifications
Adobe Photoshop Expert Skill Training 2021

Adobe Illustrator Expert Skill Training 2021

Adobe InDesign Expert Skill Training 2021
Content Marketing | HubSpot

Inbound Marketing | HubSpot

Email Marketing | HubSpot

Artificial Intelligence and Machine Learning in Marketing | HubSpot

Person-Centered Training | Support Development Associates, LLC
Fun Fact
Completed coffee themed  1000 Daily Drawings Project, an archive of which can be found here
"Wow, that's pretty impressive."
Thank you it really is.
Social Links